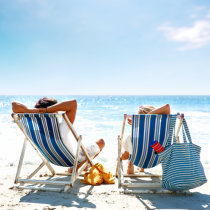 Savings Club
Only you know what's on your bucket list. At Fairmont Federal Credit Union, our mission is to help you meet your financial goals. Create a savings account specifically for your heart's desire — and earn dividends to reach your goal faster.
Contribute as much and as often as you like. Then, at your request, we'll disburse your funds. It's a practical way to act on your wild (and wonderful) dreams.
Summary

Save up for something specific:
New merchandise item
Auto expenses
Home insurance
Dream vacation
Higher education
And more
Earn dividends like regular savings
Based on average daily balance and paid monthly
No minimum balance required
No payment schedule
Make unlimited deposits at anytime
Withdrawals in any amount are allowed
Members may withdraw funds at any branch location or transfers via
Mobile banking, or
No minimum opening deposit required

Membership eligibility requirements may apply.