Back
Thanksgiving On A Budget
Published: 11/25/2019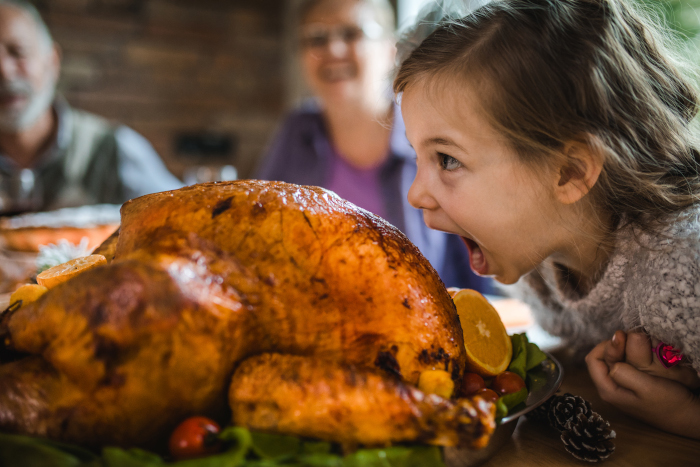 The holidays are here again, and that means Thanksgiving dinner is just around the corner!
Every year the American Farm Bureau Federation surveys the cost of an average Thanksgiving dinner for 10 people. The cost varies slightly from year to year, but usually hovers right around $50.1 Once you factor in things like wine, decorations and travel, it can be an expensive celebration!
Every dollar you can save on Thanksgiving is one more you'll have for the shopping that soon follows. Here are a few suggestions we put together for some thrifty holiday meals:
1) Let Your Family Help
Hosting Thanksgiving dinner doesn't mean you have to do everything. When family members ask if there's anything they can bring to contribute, have an idea or two ready. A potato salad here and a bottle of wine there add up to a lot of time, energy and money saved. If you really want to spread the cost and labor around, consider an organized potluck Thanksgiving.
2) Use What You Own First
Look over your pantry for canned goods that you've forgotten about. Freeze produce that might go uneaten until Thanksgiving. That loaf of bread that will soon go stale can be frozen and cut up into cubes later for stuffing. That curtain you're never really going to put in a window might make a great tablecloth. Those flowers in the window might make a great centerpiece. Get creative with your place settings. You might be surprised how much you don't actually need to buy.
3) Buy Only What You Need
This may sound obvious, but when Thanksgiving is over, shoppers often find themselves with ingredients they haven't used and food they probably won't eat. Thanksgiving meals usually have quite a few dishes to go around, so the size of any single dish is less important. Avoid doubling recipes when standard-size batches will probably be enough. If your recipe calls for two squash, skip the pre-wrapped five-pack.
4) Use Coupons & Price-Matching
Investing a little time in coupon clipping can save you a significant amount in the long run. Coupons for items with a longer shelf-life, like garlic, onions, sweet potatoes and butternut squash are great for Thanksgiving dinner, but also last a while if they're not used.
Many stores also price-match competitors' coupons to draw shoppers. Take advantage of it!
5) Stock Up After Thanksgiving
As with any holiday, grocery stores put their Thanksgiving-related inventory on sale as soon as it's over. Holiday-specific items like cranberries, pumpkin puree and roasted chestnuts can all be picked up for well under the usual market value, and can probably be used for a Christmas meal. If not, the canned goods will keep for another year.
6) Plan Ahead
Fairmont Federal Credit Union members who opened a Holiday Club Savings account this year have just received the money they put away for the holidays, plus interest. Holiday Club is a savings account specifically for the holiday season. There is no minimum balance to open or maintain it, and your money earns interest throughout the year. The whole balance is transferred each year on the first Friday of October, just in time for Thanksgiving preparation.
Get a jump on Thanksgiving of 2020 by opening your own Holiday Club savings account with us today!
Source:
Farm Bureau https://www.fb.org/newsroom/farm-bureau-survey-thanksgiving-dinner-cost-down-for-third-straight-ye
Back