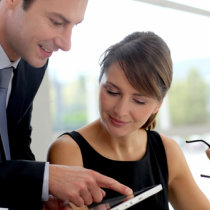 Careers
FFCU provides career advancement opportunities to its employees by recognizing individuals for their contribution. FFCU also provides its employees with a very competitive benefits package including health, dental, vision, 401k, and paid time off.
Fairmont Federal Credit Union offers borders beyond Fairmont and benefits beyond banking! We are a not-for-profit financial organization, democratically controlled, owned and operated by our members for the benefit of all who belong.
As one of the most progressive credit unions around, our success has been built on our commitment to the credit union philosophy of "People Helping People"! This is your credit union and the more you participate the more you share in its benefits. Remember, the Credit Union does not profit...our members do!
Thank you for your interest in Fairmont Federal Credit Union.
EOE M/F/H/V