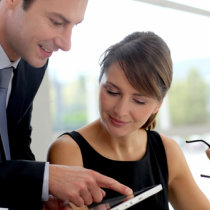 Careers
FFCU provides career advancement opportunities to its employees by recognizing individuals for their contribution. FFCU also provides its employees with a very competitive benefits package including health, dental, vision, 401k, and paid time off.
Fairmont Federal Credit Union is seeking entry-level Member Services Representatives, Tellers, to serve members in our Harrison County and Marion County locations. Full-time and part-time positions are available.
Member Services Representatives serve members by performing transactional duties, paying funds with a high degree of accuracy, and cross-selling credit union services. Transactions are performed in accordance with credit union policies and procedures. A high school diploma or GED is required. Previous cash handling and customer service experience is preferred. Good communication skills, courtesy, tact, and professionalism are essential elements of the job.
Fairmont Federal Credit Union offers borders beyond Fairmont and benefits beyond banking! We are a not-for-profit financial organization, democratically controlled, owned and operated by our members for the benefit of all who belong.
As one of the most progressive credit unions around, our success has been built on our commitment to the credit union philosophy of "People Helping People"! This is your credit union and the more you participate the more you share in its benefits. Remember, the Credit Union does not profit...our members do!
Thank you for your interest in Fairmont Federal Credit Union.
EOE M/F/H/V
How to Apply
Please mail completed applications to:
Fairmont Federal Credit Union
Attn: Human Resources Dept.
PO Box 2139
Fairmont, WV 26555-2139
Or you may drop off the completed application at any branch location.