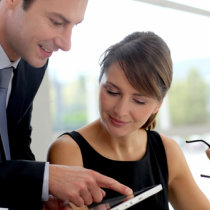 Careers
FFCU provides career advancement opportunities to its employees by recognizing individuals for their contribution. FFCU also provides its employees with a very competitive benefits package including health, dental, vision, 401k, and paid time off.
Open Positions
Marion County
eBusiness Solutions Specialist II
Maintenance Specialist
Role and Responsibilities
To provide general maintenance and repair work to the Credit Union's facilities as assigned by supervisor; including minor mechanical, plumbing, and carpentry repairs on such equipment as engines, lawn mowers, sinks; installs celling and floor tiles, uses general hand tools and electrically powered hand tools. Perform routine preventative maintenance (cleaning carpets and furniture, maintaining the landscape, removing snow from parking lots and walkways, perform minor repairs on office equipment, cleaning of windows periodically, sidewalks and drive-ups being swept or hosed off, kiosks kept clean in drive-thru, garbage and leaves picked up, minor painting, and changing light bulbs, etc.) Other responsibilities may include to serve as backup to the courier.
Knowledge, Skills and Abilities
Two years to five years of similar or related experience.

Good communication skills.

Must maintain a neat appearance in accordance to dress down policy.

Basic mathematical skills required.

Work requires the proper use of commonly used hand tools and basic knowledge of office machines.

Must possess a valid state driver's license. The ability to read and write.

Work requires the ability to lift and carry moderately heavy packages or equipment and standing and walking up to 97 percent of the time.
EOE M/F/H/V
How to Apply
Please mail completed applications to:
Fairmont Federal Credit Union
Attn: Human Resources Dept.
PO Box 2139
Fairmont, WV 26555-2139
Or you may drop off the completed application at any branch location.