Back
How To Save Money While On Vacation
Published: 07/08/2019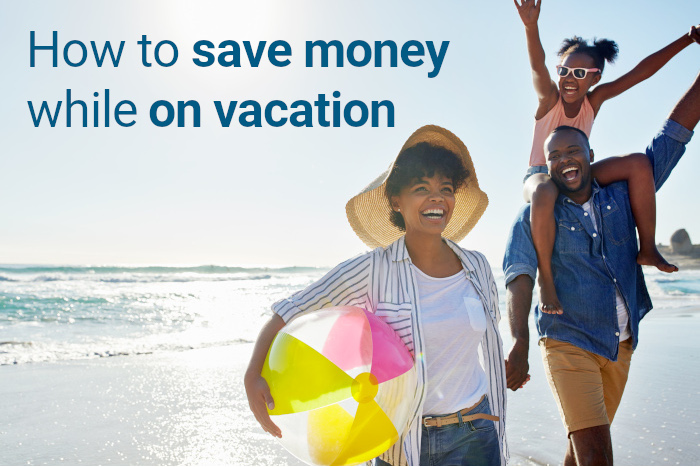 On average, Americans spend 10-15% of their annual income on vacations. Some may spend more – some may spend less – but we can all agree that vacations can be costly.
Even with such a high price tag, it's still possible to keep your spending in check while on vacation and have a fun and relaxing time. Here are some suggestions for ways to save money while you're on your next getaway:
Bring a set amount of money with you
Bring only the amount of money you plan to spend on your trip. Whether you choose to bring all cash, or choose to keep your allotted budget in your checking account, this is one of the best ways to make sure you won't overspend on vacation. You can't spend it if you don't have it!
Bring snacks on your flight
Bringing your own snacks and drinks with you to the airport can save you from overpaying for treats. You can bring an empty water bottle with you to fill up once you're through security, as well as snacks as long as they're in plastic baggies.
Pack light
Avoid extra baggage fees at the airport by packing as light as you're comfortable with. Some airlines charge you per bag, while others allow a certain number of free bags per person. Sticking to the allotted number of bags and keeping luggage to a minimum is the best way to steer clear of added fees.
Skip Souvenirs
Don't buy souvenirs when you first see them. Instead, try waiting a few days and purchasing them at the end of your trip to avoid impulse purchases in gift shops. You can also choose to avoid gift shops all together. The memories of your vacation will last a lifetime, even without a souvenir.
Stay in a house or a condo
Renting a house or condo for your vacation can save you ton. You're able to save by cooking a few meals instead of eating out, and you'll also save on resort fees that are often tacked on to hotel rates.
Vacation with friends and family
To make things easier on the wallet, you can invite family and friends to vacation with you. Everyone pays a share of the rental fee and chips in for groceries.
Look for hotels that offer transportation
If you do stay in a hotel or resort, look for those that offer transportation options. You may be able to save by forgoing a rental car expense. Some hotels offer shuttles to and from the airport, as well as to and from activities around your destination.
Take advantage of free food
Did someone say continental breakfast? Every free meal when vacationing is one less meal that comes out of your budget for fun. This is especially helpful on family vacations. If you have kids in tow, some lodging accommodations will offer free kids' meals, too.
Ask locals where to eat
When eating out, try to find out where there locals go to. Chances are, they know where the best food is for the best prices. Restaurants near tourist areas are often the most expensive eateries.
Use a credit card with cash rewards
Sometimes it pays to use the right credit card from time to time. Credit cards that give rewards are worth looking into if you're able to set a budget and pay off your balance right after your vacation.
Sources: Forbes.com; Moneycrashers.com
Back