Back
Making This Month's Third Paycheck Work for You
Published: 08/23/2019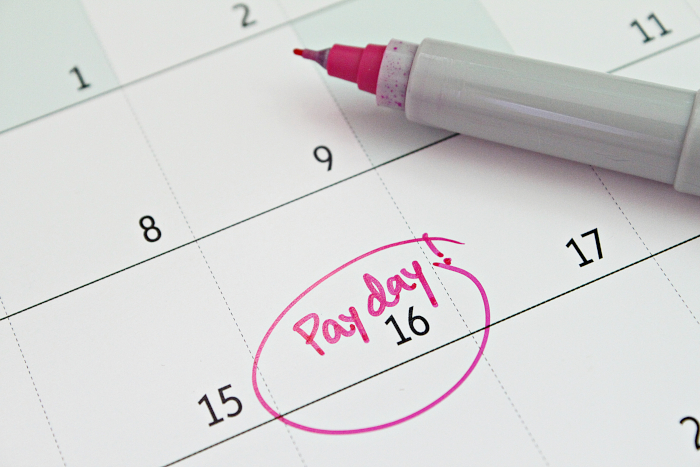 It's that time of the year again!
Most businesses in the U.S. pay their employees bi-weekly — usually every other Friday. That means many of us will be receiving an extra paycheck this month. That's a full two weeks of pay above and beyond your normal monthly budget!
It can be tempting to spend that extra money immediately, but this is a perfect opportunity for smart workers to build savings that can earn interest, prepare for holiday shopping, and provide financial security.
Here are some great ways you can be fiscally responsible and get the most out of that extra paycheck:
1) Kickstart a Savings Challenge
Willing to go the extra mile by saving this month's extra income and put away small amounts of money regularly? Try using your bonus check as motivation to kickstart one of the three Savings Challenges available! With these Savings Challenges you could end up with a substantial sum one year from now. We've mapped out a few options for you:
Our 365 Day Savings Challenge shows you how to start by saving one single cent your first day, with one cent increases daily. On the last day of the year, you will only put away $3.65 — less than many people spend on morning coffee. That may not sound like much, but when you're finished, you will have saved $667.95!
Our two 52 Week Savings Challenges will show you how to end that same year with $707 or $1378, depending on how much you're willing to save each week.
Add that extra paycheck to these totals, and you're well on your way to a nice little nest egg!
2) Save It For Holiday Gifts
Holiday shopping and travel can leave checking accounts depleted and credit accounts burdened with the dreaded "new year debt." Our Holiday Club option puts your extra cash into a savings account that is given back to you at the beginning of October, just in time for buying gifts. Your Holiday Club account will earn quarterly dividends, and there is no penalty for withdrawing early in case of emergency. This is a great option for people whose extra paychecks will be just enough to cover holiday expenses.
3) Hack Away at Your Debt
While savings accounts will earn you interest, most of your debt is costing you interest at an even higher rate. Using your extra check to pay down debt in a lump sum is never a bad idea. Doing so will not only lower the grand total you'll end up paying, but could also reduce your monthly payments if they're based on revolving credit, where your payments are according to how much you owe. This is a great way to be more financially stable and reduce the stress that looming debt can create.
4) Earn Money While You Save Money
One of the hardest parts of saving money is discipline. With a chunk of extra money sitting in your checking account, it's all too easy to spend without even realizing it.
Our Share Certificates allow you to store that money away now to get a larger return later. Term lengths range from 3 months to 5 years, and the longer you're willing to wait, the higher the return. You can have your dividends deposited monthly into another one of your FFCU accounts, or compounded back into the certificate to increase your savings. This is a great option for people who are certain they want to save their entire check for a substantial period of time.
Back