Back
Partners 'n Pennies Challenge
Published: 01/02/2020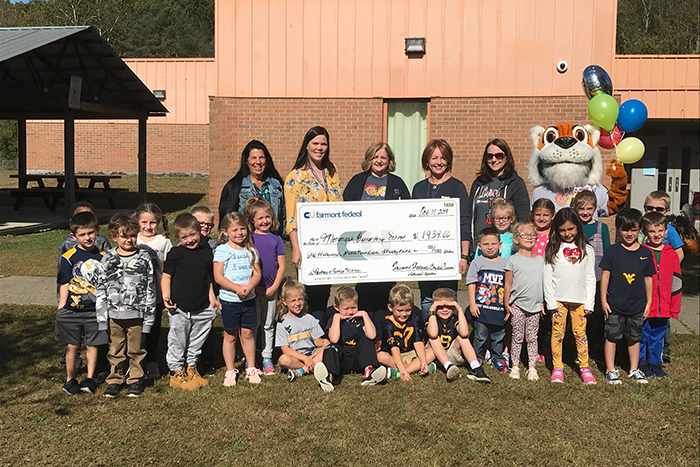 Fairmont Federal Credit Union Raises $10,000 for WVU Medicine Children's Hospital
Celebrating 80 years of People Helping People throughout 2019, was about giving back to the communities we serve. During our annual campaign for the Children's Miracle Network (CMN) a challenge was presented to our Partners in Education to help raise money for the CMN's School Intervention Program at WVU Hospital Children's.
Through the Partners 'n Pennies Challenge, elementary school kids from four of our Partners in Education raised nearly $2,500 for the Children's Miracle Network School Intervention Program. The School Intervention Program helps to maintain a sense of normalcy in each child by providing them educational opportunities and growth, it works closely to sync the standards being taught in the child's classroom and create a learning environment within the hospital that stimulates a classroom experience as well as reintegration support for children returning to school after a medical diagnosis.
The Partners 'n Pennies Challenge awarded the school that collected the most pennies $1,939.00, significant to the year the credit union was established. Monongah Elementary School collected the most pennies and Fairmont Federal Credit Union's mascot, Count Earnest the SAVERtooth Tiger presented the school a check for $1939.00. To encourage students to give back, Monongah Elementary School held its own competition between classrooms, weighing pennies each week. Fairmont FCU awarded the winning classroom with treats and a $10.00 Coupon for each student, so parents could open a savings account or deposit into the students existing account with Fairmont FCU. Each of the other participating schools received $250.00 just for participating in the challenge.
In addition, our credit union members and employees donated an additional $7521.42, for a grand total of $10,000 that will be presented to the WVU Medicine Children's School Intervention Program in January.
We extend a heartfelt thanks to every student, parent, member and employee who donated, you truly are part of the credit union philosophy of People Helping People. #WeAreFFCU.
Back