Back
5 Fun Fall Crafts Perfect for Thanksgiving
Published: 11/24/2020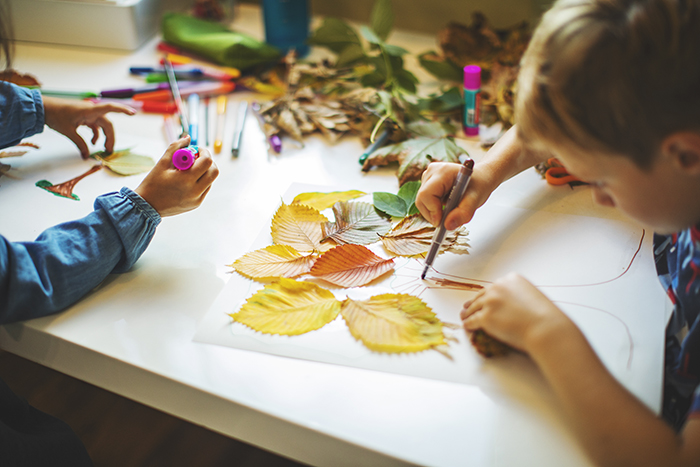 Thanksgiving is a time for reflecting on all the things we are grateful for in our lives, it's also a season where we come together to celebrate our relationships with the people that mean the most to us. Whether you're celebrating in-person or virtually this year, the spirit of Thanksgiving is more important than ever, appreciation and togetherness can be celebrated even if time and distance do not allow us to be with our loved ones in person. Some of the Thanksgiving traditions that you participate in with your loved ones may not be possible this year, or you might be looking to start new traditions and activities with your friends and family. Check out a few fun crafts we found to create some family fun and memories this Thanksgiving.
Painted Rocks and Leaves for the Thanksgiving table from Handmade Charlotte.
This is a fun craft that involves minimal supplies and maximum creativity. Have everyone go outside and collect rocks and leave to paint, then have everyone paint the chosen leaves and rocks in colors of their choice. This craft makes for a great centerpiece or decoration piece for your Thanksgiving table.
Felt Pie Slice Garland from Country Living.
This simple and cute craft would make for the perfect pieces to decorate your mantle or make the perfect addition to your Thanksgiving decorations, and the best part is that is handmade by you and your loved ones! All you will need for this craft is felt, buttons, scissors, glue, string, and a few moments to assemble your garland! This is the perfect craft if you're in a pinch to get Thanksgiving decorations up!
Leaf Catcher from Handmade Charlotte.
This is the perfect project for the dreamers in your life, young and old alike. Have everyone write down things they are thankful for or goals they hope to achieve in the coming year on paper leaves. Then you can create a catcher using an embroidery hoop and yarn. This makes for a fun display that can be kept throughout the year as a motivator and reminder.
Sponge Painted Thanksgiving Turkey from The Resourceful Mama.
This craft can get a little messy, but all in good fun! With a few sponges, paper plates, paint, and some construction paper you and the kids can create cute Thanksgiving turkeys and promote creativity in the process.
Paper Plate Scarecrow from Messy Little Monster.
This last craft involves an element that most of us have laying around our house, paper plates. With the use of some scissors, yarn, buttons, and some construction paper, you and your loved ones can create cute little scarecrows. Like many of the crafts on this list, this craft can be saved as keepsakes to look back on during future Thanksgivings and celebrations.
Sources:
https://www.countryliving.com/diy-crafts/g22626432/thanksgiving-crafts-for-kids/?slide=1
Back