Back
7 Finance Tips for Graduates
Published: 05/23/2019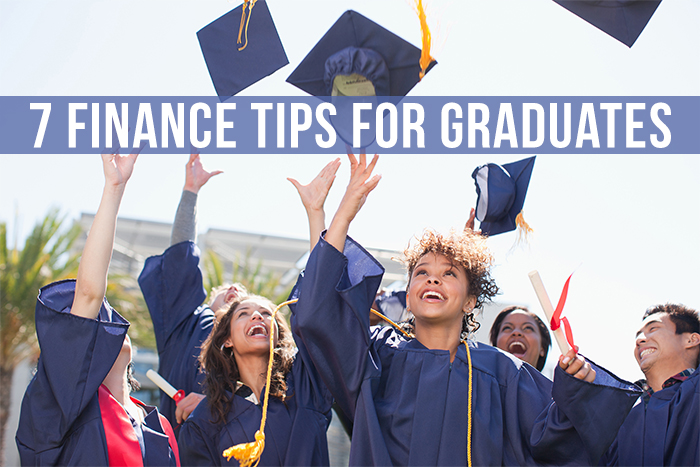 Spring brings new promises – warmer weather, time away to reinvigorate and, for recent graduates, the promise of a new adventure. Graduates are ready to face the world, but are their wallets?
Whether you just graduated from high school or college, it's a good time to look at your finances and figure out how to make the most of your money.
Here are a few ways to keep control of your budget and prepare for the future as a high school or college graduate:
1. Track your spending – Pay attention to where your money is going every month. If you find that your money runs out before the bills or grocery shopping, you might need to eliminate one meal out or stay home instead of going to see that latest movie.
2. Keep a savings account – It can be too easy to spend that extra money left in your checking account, especially with a debit card. Think about opening a savings account, too. Put a little money in there every pay day and keep it there for big purchases or emergencies.
3. Don't apply for every credit card offer – Credit cards can play a vital role in building credit and they're there to use in case of emergencies. But don't use them for everything. Try to build healthy habits in this early stage of life by only charging what you can pay back within the billing period.
4. Look at all loan options – If you're a high school graduate planning to attend college in the fall, or a college graduate moving on to grad school, be on the lookout for affordable ways to supplement your existing student aid. Consider your local credit union for competitive student loan options, with repayment terms that begin after your next graduation. FFCU partners with Sallie Mae® on its Smart Option Student Loan.® The loan funds can be used to pay for tuition, books, computers, housing and other needs.
5. Don't misuse student loan money – Receiving a big check for college expenses is exciting. It's also tempting to use just a little for something you really want – a quick vacation before classes start or a new outfit. But, remember that money is for your education and what you spend on something else won't be there for those college bills. Plus, you still have to pay it all back after undergraduate or graduate school.
6. Set goals – Now is the time to start figuring out how you want to live and start planning for that life. Are you a freshman planning to buy a car by senior year, or an incoming graduate student planning to be debt free by age 30? Whatever your goals may be, setting goals and maintaining a budget to reach them is essential. It may seem hard at first, but the payoff down the road will be worth it
7. Don't dismiss your retirement – College graduates are gearing up to start their professional careers. Your benefit packages likely include a 401K. You're young and retirement might seem too far off to begin planning for it, but time flies. The sooner you start, the more you'll have at retirement age. If your company doesn't match your 401K contributions, or even if they do, you have the option of an Individual Retirement Account (IRA) as well.
Sources: fairmontfcu.com and thebalance.com
Back